The Beerhouse in Bradford is a safer place with Barlows UK!
The Beerhouse in Bradford is a safer place with Barlows UK!
In March 2015, Barlows was contacted by The Beerhouse, Bradford's latest trendy venue. Offering a wide selection of craft beers along with Yorkshire cask ales and home-cooked pub food made from locally-sourced produce, this new establishment was designed and built to a high specification and is already proving popular with Bradford's hip crowds.
Barlows' brief was to design and build a CCTV system with a sophisticated alarm installation in order to provide a safe environment for both customers and employees.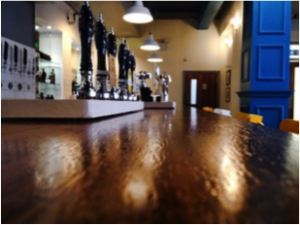 "We take our duty of care to both our guests and employees extremely seriously. Having a state-of-the-art CCTV and alarm system acts as a deterrent, as well as providing evidence to the police and courts, if an incident occurs" says Jas Bhatt, Owner, The Beerhouse.
Barlows have also completed similar installations for a number of pubs and restaurants in the same group and were only happy to get involved with this exciting project.
"We installed a brand new high definition IP CCTV system, as well as a fully monitored Redcare monitored intruder and fire alarm systems" says Matthew Scott, Contracts Manager, Barlows UK Ltd.
The alarm systems are connected to the police and fire brigade for added security.
"The project was finished ahead of schedule and within budget; once again the Barlows team have done themselves proud and we will use them again" says Jas Bhatt.
Back to case studies
Contact us